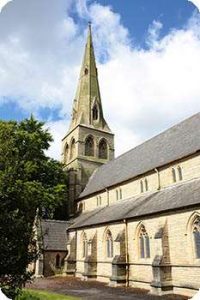 The history of Hyde Chapel goes back to before 1708, when the congregation built the first Christian place of worship in Hyde.  A new church replaced the former building in 1846.  This second Chapel is still in use today, its high steeple a noted landmark.
Our forefathers were Presbyterian in churchmanship.  Theologically the fellowship has gone through a number of phases, but today most of us are happy to be known as Free Christian.
Because of our imposing building and our location at the heart of the community, we are regarded as the village church.  As a result many people look to us at significant times in their lives;  birth, marriage and death.  We hope to cater for the spiritual and social needs of the people of Hyde.
The faith for which this Chapel stands is indicated in the words used at the dedication in 1708, which state
"that this building be used for the worship of the God and Father of our Lord Jesus Christ."
The congregation has held resolutely to the simple but comprehensive title of 'Hyde Chapel' throughout its history.
We are full members of 'Hyde & District Fellowship of Churches' which represents churches and fellowships of various Christian traditions who have committed themselves to working and witnessing together to our common faith.